Application number in USPTO: US 14/245,397
A generator apparatus and method that can work only when the temperature at higher position is colder than temperature at lower position, utilize the gravity energy that is caused by height difference. The boiling point of working fluid is about around the temperature of bottom. The vaporization function will raise the vapor to the top end heat exchanger along the vertical vapor pipe. The top end is exposed in colder ambient, so the vapor will be condensed quickly to liquid, then free fall to bottom end along another vertical liquid pipe. At the bottom, a hydro-wheel generator or dedicated fluid kinetic generator is used to connect the liquid pipe and vaporization tray. If the bottom end is under the water body, most part of the system should be waterproof for submersible application. Most likely the present invention is suitable for cold belt or glacier zone geographically.
In a sense, the invention looks like to artificially simulate the natural water circulation. Although the vaporization in bottom end can bring expansion energy, for maximizing the flow rate in order to maximize gravity power, the fluid kinetic generator is supposed to harvest all energy accumulated in the "artificial rain" – the free fall condensed working fluid.
                          <![if !word & !ppt & !excel & !vml]>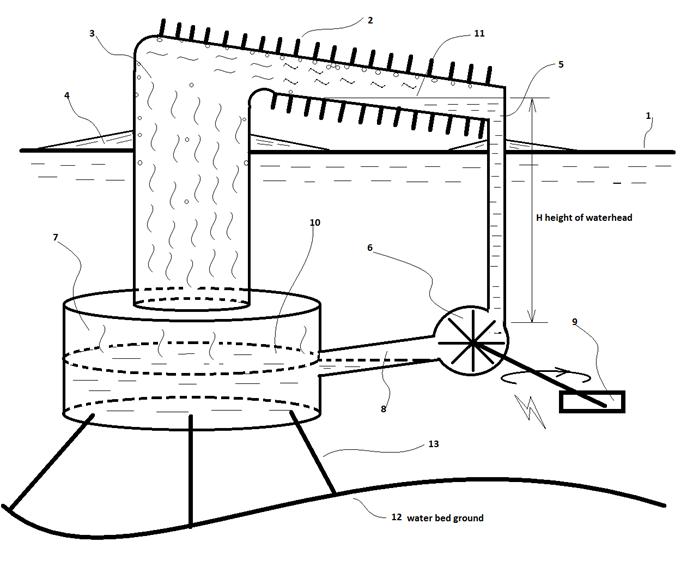 <![endif]>

<![if !vml]>